Google Daydream View VR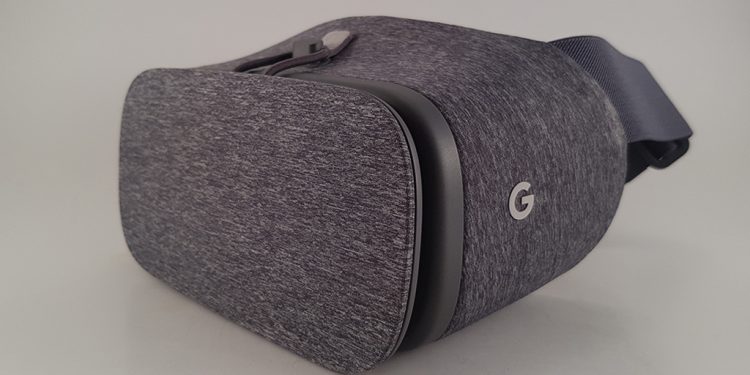 Detach from the real world and daydream with some help from Google and their Daydream View VR headset. With a unique fabric construction, this high-end virtual reality platform for Android is helping Google to muscle into the VR market that's crowded with competitors. Though Google's Cardboard headset currently ranks as the number one headset for first time consumers and takes a whopping market share of headsets sold, Google has been obviously looking towards upping their game with higher end technology and has even announced a standalone version of the Daydream in the works by Lenovo and HTC.
The design of the Daydream is the result of a collaboration between several clothing manufacturers and Google, resulting in soft fabrics and a lighter weight that most products on the market. Designed to accommodate users with glasses, the stylishly roomy and comfortable Daydream comes in three colors, slate, crimson, and snow.With a setup that's like Samsung's Gear VR, you'll be able to insert your android phone by opening the front flap. A comfortable face pad cushions the headset against the face and are easily replaceable. Available only at specific retailers like Amazon as well as on the Google Store, the Daydream View headset will cost you around $79 USD, plus shipping and handling. Additional face pads are also for sale and will cost about $15 USD.
The Good and the Bad
While the Daydream excels at a few things it has its downsides too and we're more than happy to detail them for you so you know what you're buying, or not buying, especially if this is your first foray into the world of VR.
Build
The Daydream is lightweight and small and you'll find that the fabric is soft and breathable. The construction is well done, though the interior plastic of the device can look and feel somewhat cheap. The inside padding is soft and comfortable and can be easily removed and washed so you avoid the oils from contact with your skin degrading it too fast.
Users who find most VR headsets to wearying to play with for long term will enjoy the light feel of the Daydream but the fit can be somewhat restrictive. If your face shape isn't quite right, and whose is?, then you'll likely have to deal with some noticeable gaps that let in lots of light leakage. Reports from users that there are three main areas where light seeping occurs, at the bridge of the nose and at both the left and right side. While it won't affect everyone, you won't really know until you try it out for yourself. This can be fixed by using the Daydream in a darker room.
Compatibility
For now, the Daydream headset requires an android phone, and not just any phone will do. Operating with Google's Daydream platform you'll need a high-end phone to make it work. At the moment, only the Google Pixel and Pixel XL, Motorola's Moto Z phones, Huawei's Mate 9 phones, and ZTE's Axon 7 are compatible but Samsung's Galaxy S8 and Asus's ZenFone AR will soon be able to work with the Daydream platform.
If you already own one of the phones listed, then you'll find that VR viewing with the Daydream is top quality. The only problem though is many users have reported that their phones get very hot when playing in VR mode using the Daydream and that can lead to poor game and VR performance. While Google says there should be a warning if the phone gets too hot we've found that there are problems well before that warning will appear.
Controller
Adding to the useability of the headset is an included Daydream View controller. Small with rounded edges and only two buttons to press, this handy peripheral is built with motion sensors that allow users to interact with their virtual environment.
Stored in a small compartment at the side of the headset and secured with snaps, it's easy to take out and use to draw, shoot bad guys, and play around in your VR games and environments. The options are almost limitless and adds utility to the mobile VR landscape. However, users have reported issues with the controller, mostly that it stops working at least once per session, however we found that usually it's a problem with the Bluetooth connection and will pop back up and continue to work as normal, but it's frustrating when you need it and it won't work.
Games and Apps
The success of any platform like Daydream will depend on the content available and so far, there's plenty to wet your whistle with. If you've got the Daydream you'll want to check out Virtual Virtual Reality, and no, that's not a typo, in fact it's one of the best experiences in the Daydream VR realm where you play a human that's in service to futuristic robots. Harry Potter fans should try out the Fantastic Beasts and Where to Find Them VR app as you tend to three mystical creatures while their owner is away. And for those that want to just sit back and relax, what better way than with Netflix VR?
Watch it on the biggest screen of your life inside the Daydream headset as you binge-watch your favorite shows, and with the lightweight Daydream you'll be able to last through them all.
With plenty of apps available and more in development, the Daydream is one of the better VR headsets available in its price range, so long as you have a compatible Android phone.