Valve Five-Finger "Knuckles" Controller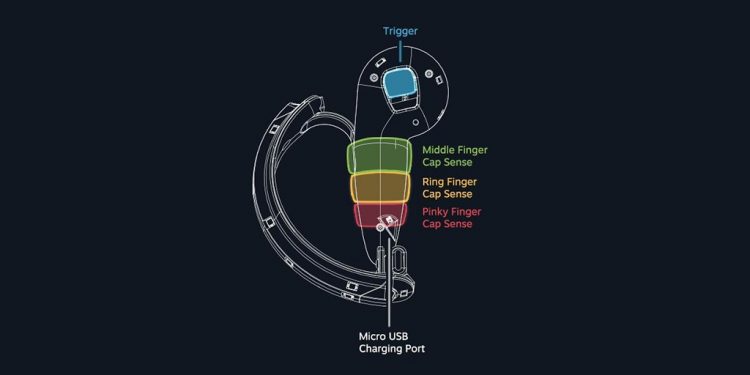 We've been waiting for Valve's SteamVR controller for the HTC VIVE since plans and impressions started leaking out in October of 2016 after the Steam Dev Days conference. And after waiting all these months we're finally getting to hear more about this hardware, courtesy of documents on SteamVR's Knuckles Dev Kit group page.
For now, the hardware is named Knuckles, and most excitingly it seems that these new controllers will enable independent tracking of all five fingers. What can be shown from the documents available are embedded, capacitive sensors that will be embedded in the handle and along the trigger to track the position of each finger while a ring of sensors surrounding the thumbpad and the back of the hand will ensure the unit is properly tracked in the 3-dimensional Lighthouse system.
Similar in ways to the Oculus Touch controller, Valve's Knuckles controller promises to have improved finger tracking and the ability to reach out and grip an object, throw it, and interact in new ways within the VR landscape, all without having to press a button.Adjustable straps allow for opening the hand without dropping the controller and so far, it has a reported three-hour battery life and one hour charge time via USB micro-B connector.
According to the documents the finger sensing capabilities of the Knuckles controller depend on a specific calibration process that sets the controller up to work with a user profile that records that users skin capacitance. Skin capacitance is just a fancy way to describe a person's ability to conduct electricity, or even more simply put, how hydrated their skin is.Calibrating for each individual, the sensors will allow for intuitive control – they don't need any force, just a touch. The device is continuously recalibrated during wear to account for different hydration levels, for example it's likely there will be some sweat and moisture loss which affects the ability of the skin to transmit a current between itself and the touch pads.
Released so far as a developer's kit, the Knuckles controllers will allow game developers to create games that make full use of this new technology and create a greater sense of hand presence than the current VIVE wand controllers.
While develops are currently working on new applications to take advantage of the Knuckles controller it can also be configured to work within games that were originally designed for older SteamVR controllers and the sensors will be used to emulate grip buttons or the trigger.
There's no word yet on the expected cost of the Knuckles controller for consumers, nor is there a scheduled release date, however there's no doubt that the competition between Oculus Rift and HTC VIVE based hardware will drive developers to produce and release quickly. It's a solution that many users have been anxiously awaiting, providing the ability to interact more fully with the virtual reality environment. Pick things up, throw them, pet that dog, cast a spell with a wand, it should all be possible soon enough. It will definitely feel cool when you realize all the things you can do; however, many have reported that when picking items up, realizing that everything has the same feel is somewhat immersion breaking. It's an issue that developers must tackle, creating the feel of drag and weight within the environment, and the Knuckles controller just may be what gets them started down that road.